Tarot readings for Healing and Self-Empowerment
Being a healing therapist and a professional Tarot consultant, what I find particularly interesting about Tarot is its "healing aspect", since contrary to what many people might think, Tarot is not only a tool to "foresee" the future –
The 78 Tarot cards are actually powerful images of your Soul and as such they can be used as keys to your innermost Self!
The origin of Tarot is said to be in Ancient Egypt where the 22 cards of the Major Arcana (Major Arcana translates into "Major Box of Secrets") were used as tools for the great initiation of the disciples of higher knowledge. They were laid out in the temple of Initiation of Memphis as 22 steps towards the ultimate goal: ENLIGHTENMENT, which in other words means: Total Health, Self-empowerment and Love with every thought and action.
By mastering the challenges that came along with each of the 22 hieroglyphical keys towards the highest goal, the disciples became able to SEE behind the veil of unconsciousness and became a true Master of Self.
So, what does this mean for you?
It means that, if you choose to have a Tarot reading, you will not only be given clues about the past, the present situation and the future. What is even more important is that the cards actually hold the keys to transform the present and the future by giving us symbolic meanings, like numbers and images. We can use these to access and harmonize the energy level from which reality is formed, if – and this is the most important – we know how to do it…
This is precisely where the wisdom of energy healing comes in and where I am able to assist you in accessing those "unconscious parts" of your self which are crucial for Transformation and Self-Empowerment.
It is no coincidence that the numerical meanings of the energy locks (corresponding table) we use in the ancient Japanese energy healing art Jin Shin Jyutsu correspond to the meanings of the Tarot cards, which for example means:
The Energy Lock that corresponds to the Tarot Card N° I, the Magician, is Energy Lock number one, which is located on the inside of the knees and has the meaning: Prime mover, connecting the extreme height with the extreme depth.
By touching energy lock number 1 we not only reach and activate all body functions; we also harmonize panic attacks and increase our courage and confidence, and this is precisely what the Tarot Card number I, the Magician, tells us:
The Magician tells us that we have everything in ourselves in order to succeed and that we need to have confidence that we are heading in the right direction. It is about the beginning of something new and magical – as long as we have the courage to believe in it and go for it!
We can support this process and increase our confidence by simply touching energy lock Nr. 1, which is just one of many examples of how Tarot and energy healing are linked together, and, more importantly, how we can use this ancient healing wisdom to assist our soul path which the Tarot spread reveals.
If you decide to have a Tarot reading, and if it is your first reading with me, I would suggest that we initially do a detailed Life Spread which covers every aspect of your life, like your personal situation, your home life, work life and love in the past, present and future. Together we will discuss the spread in detail and examine how situations evolved and where they are heading.
If you wish, I will then suggest simple Energy Healing techniques to either support the tendencies shown or to prevent potentially harmful situations. We will also examine if the cards show any elements in the majority or if others are missing. This can also be an indicator of the need to harmonize certain aspects of your being, which again can be easily done by applying simple self-help Energy Healing techniques.
Since the Life Spread covers all aspects of life, there is usually no need to do another spread. However, if you still have specific questions that could not be answered with the life spread, I will be happy to also do a Celtic Cross spread, which is great for specific questions as for example: "Will I get that job", "will we save our marriage" etc. See also my blog introducing Jin-Shin-Tarot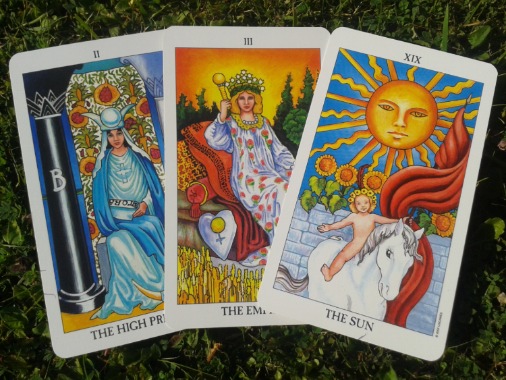 TAROT READINGS VIA SKYPE
Book a detailed Life Spread reading now and find out where your life is heading. The Life Spread is like the house of your Soul, showing all aspects of your life, like career, relationships, personal life in general as well as finances.The Life Spread can help you avoid pitfalls and enables you to make the most out of positive influences. A Life Spread consultation lasts for 1h and costs USD 75.00. It may also include a Celtic Cross spread for more specific questions on certain subjects.
The 30 min. version for USD 60.00 is the Celtic Cross spread on its own.
Three-Card-Reading for quick questions (Skype Only)
(~ 15 min.): Do you have a quick question for in between? Then you have the option to book a three-card-reading which will cover one specific question from any area of your life. Important: This reading is also available in writing by email. When booking please state which version you would like.
Cost: $44 for 15 Minutes
To book a Tarot Reading simply click the "buy now" button above for the spread and duration of your choice. Once I receive confirmation of your payment, I will be in touch with you so we can fix a date.